Chicken Alfredo
Hey Fit Soldiers,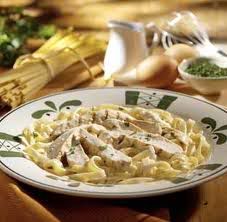 With the the big Marathon coming up next weekend I wanted to throw this out there.  It's time for the runners to start planning their week of food and preparation so that we are primed and ready to go!  So this has a little carbohydrate focus.
When it comes to "carb loading" there is no way for your body to "carb load" with one big pasta dinner.  This can be a recipe for disaster.  So if your planning for a big endurance type event make sure your including them more regularly the 3-5 days leading up to the event.  (same goes with water)
Chicken Alfredo   

2 Boneless, skinless chicken breasts   
1 pkg. Whole Wheat fettuccine
Sauce:
1 can evaporated skim milk   
6 oz. Parmesan cheese -­‐ low fat   
Pepper to taste   

Optional:   
Mushrooms,   
Broccoli,   
shrimp   

Directions:   
Cook chicken in skillet.   
Cook pasta according to box.   
Warm milk, add cheese until melted and thickened.   
Add pepper.   
Place chicken in sauce and pour over noodles.
Enjoy
David Mura
Fit Soldiers
2100 East 112th Avenue #2
Northglenn, CO 80233
720-382-5240