Fit Soldiers Enter The Kettlebell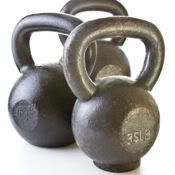 Hey perhaps you've noticed some new hunks of iron laying around Fit Soldiers lately... You may have even seen them swung around on the TV's Biggest Loser or maybe played around with them once or twice yourself.
We excitedly welcome the addition of Kettlebells her to Fit Soldiers! The cannon balls with a handle are one of the hottest trends in the fitness world right now. Rightfully so the pack a punch when it comes to benefits. I am extreemly pumped to add them to our tool box and anxious to see the results and fun we're going to have with them.
Let me tell you a little more about them and how the benefits of kettlebells will put your fitness goals into over drive!
What Are Kettlebells?
Kettlebells have been around for quite some time. They originated in Russia, often called the Russian Kettlebell. They are essentially a cannon ball with a handle. You will not find them in most gyms, and the one's you do find them in will have limited quantities and poor education and instruction. Go figure.
You will most likely find them in some private training studios or no frills gyms. Does that sound like a place you might go? Here you will find quality instruction and trainers that have escaped the big box gym for a reason, they're good at what they do.
How Will Kettlebells Benefit Me?
Kettlebell training is all about helping you move better, feel better, look better all while improving the quality of your life. They are for all fitness ages, levels, and genders simply because of the results they deliver.
Somewhere along the line exercise became less about functionally fit with total body exercises, and more about isolation exercises. That is simply not how your body is designed. Coming back full circle the newest trends and rightfully so are movement based workout. Total-body working as one piece functional fitness type of stuff.
That's where kettlebells come the benefits amazing and there are plenty to go around:
Total body conditioning: With kettlebells your body must learn to work together as one functioning piece.
Spend less time in the gym: Your body is recruiting multiple muscle groups and multi-joint movements requiring maximum energy expenditure.
KB's allow you to simultaneously work aerobically and anaerobically.
Increased resistance to injury.
Improved flexibility and range of motion.
Increased strength without increased mass. Through training with kettlebells you will become lean and tones not, large and bulky.
improve athletic performance and everyday function.
MAJOR calorie burn. (American Council on Exercise recently conducted a study where participants burned as much as 20 calories per minute!
How Do I Use Kettlebells?
The best way to learn how to use kettlebells is from a certified trainer that is able to teach and correct you. We will be using them in our regular boot camps day in and day out in a basic fashion and will begin holding 'Advanced Kettlebell Workshops' beginning in a few weeks.
Stay posted more information on our 'Advanced Kettlebell Workshops' will be out as soon as we wrap up the details.
Committed to your results,
David Mura
Fit Soldiers Fitness Revolution
2100 East 112th Avenue #2
Northglenn, CO 80233