Recipe of the Week: Grilled Chicken and Spinach Salad with Spicy Pineapple Dressing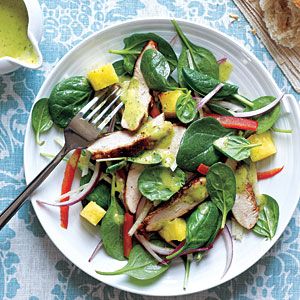 Summer is finally here! Have you noticed some of the delicious summer produce on sale at the grocery store lately? Dave and I have, and we have been buying fresh pineapples like crazy! I must say, fresh pineapples are  just so much better than the canned ones.
One of our very own Fit Soldiers Jay Hinkle sent me this recipe a couple weeks ago so I figured I would give it a try. In his words, "this is so good it's stupid." After trying it, I couldn't agree more! It's light, fresh, crisp, and delicious! It is the perfect summer dinner. Try the recipe and then leave a comment and let us know if you think so too!
INGREDIENTS:
1 pound skinless, boneless thin sliced chicken breast cutlets/tenders

1 teaspoon chili powder

1/2 teaspoon salt

Cooking spray

1 1/4 cups (1-inch) cubed fresh pineapple (about 8 ounces), divided

2 tablespoons chopped fresh cilantro

2 tablespoons fresh orange juice

4 teaspoons apple cider vinegar

1/2 teaspoon minced habanero pepper

1 large garlic clove

1/4 cup extra-virgin olive oil

3/4 cup julienne-cut peeled jicama

2/3 cup thinly sliced red bell pepper

1/2 cup thinly sliced red onion

1 (5-ounce) package fresh baby spinach (about 8 cups)
PREPARATION:
1. Heat a grill to medium-high heat. Sprinkle both sides of chicken evenly with chili powder and salt. Lightly coat chicken with cooking spray. Add chicken to grill; cook for 3 minutes on each side or until done. Remove from grill; set aside.
2. Combine half of the pineapple with cilantro, orange juice, vinegar, habanero, and garlic in a blender and process until smooth. With blender on, gradually add olive oil until blended.
3. Combine remaining pineapple, jicama, and the remaining ingredients in a large bowl. Drizzle with 3/4 cup dressing and toss gently to coat. Divide salad evenly among 4 plates. Cut chicken across the grain into thin slices; divide chicken evenly over salads. Drizzle salads evenly with remaining 1/4 cup dressing.