Who's the Boss?
Good Day Fit Soldier Team!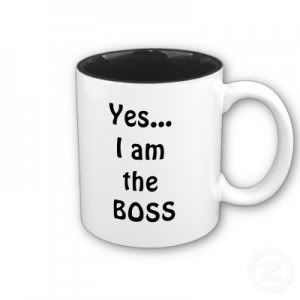 Just a little post to help you ponder your decision making.  This comes from some comments from different members over the last few weeks.  These comments will become apparent over the course of the post so I won't mention them now.
I want you to ask yourself this.  Who is the boss?  Who is making the decisions in your life.  Who tells you what to eat, how much to move, or how much to slack off?
If you answered like everyone should (with one exception among our campers) you know the answer.  It's YOU.  So the only person you need to answer to when the scale doesn't tip your way is you.
There are boot campers that I know or may see out in public that think they are fooling me when they don't report something bad on their food log, or pretend they didn't eat something they shouldn't have.
Don't look at me, and certainly don't think that because your not putting it on a food log that it doesn't play a part in your results.
Same goes with excuses. When I was a kid, and I'm sure many of you were in my shoes with this.  I could not leave the dinner table with out eating what my parents had prepared.  That's right if my parents made vegetables.  I ate them whether I liked them or not.  The consequence was me sitting in my room the rest of the night if I didn't.
I take that back the only exception was beats.  haha I remember my brothers and I sitting at the table all the food was gone except for the beats, ugh.  We hated beats.  (I like them now but then no way) So my older brother Mike went ahead and took the plunge.  Took a couple little rabbit bites of the beats. My younger brother Dan and I watched in anticipation as if he would melt or something tragic would happen.  Well it did, sure enough he goes running to the bathroom and pukes.  Then our parents set us free!!  YAY...
OK back to it. I hear parents that are letting their kids run their household, or at least what goes on the table.  "Well my kids won't eat vegetables so we don't have them."  Are you serious?  "My kids only eat... So that's what I eat too."
Lead by example.  Eat the healthy food, and your kids will have to learn to follow.  Don't stoop down to their level and let them tell you what to eat.
How about the work place? Well Jill at work always brings in cupcakes.  SO, don't eat them.  I know it's hard but take yourself out of that situation. Don't go by her desk. Don't put your food in the break room if there is rubbish food in there to grab.
You control your environment, remember your goals, and grow some will power and it will take you a long way. Don't let others dictate your results.
Be honest.
Last quick story.  Joanna was the first one to check in following the e 12 Day Fat L.oss Meal Plan.  She lost 6lbs in less than two weeks.  AND she cheated.  Yes the first thing she said is that I had a few beers, and some Easter candy.
She was honest. At the end of the day, the only one responsible for the beer and candy going down the hatch was her.
You be the boss.
David Mura
Fit Soldiers Fitness Revolution
2100 East 112th Avenue #2
Northglenn, CO 80233
720-382-5240